About Us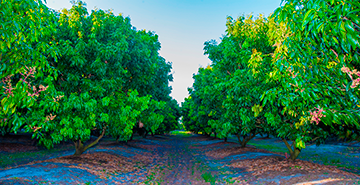 Over a canal, down a winding, narrow dirt path and past an old, iron gate in the backwoods of Loxahatchee you'll find YP (Yagnapurush) Farms.  Once inside our 20-acre tropical fruit farm you will find the warm, smiling faces of our family.
The Patel family, originally from India, moved to South Florida in the early 1990s, where we settled in Coconut Creek.  Little did we know that, one day, our family would be living in Loxahatchee, tending to over 1,000 lychee trees and about 900 Thai banana plants.
We bought the farm in March of 2012 because we had a passion for farming exotic fruits.  The farm's main crop, the lychee, is just one of about 15 tropical fruits grown in Florida.  Although our farm's main crop is lychee – we also have pomelos, jack fruit, kaffir limes and — harvested year round — Thai bananas.
Although, we grew up on a farm in India where we grew pomegranates and guava for close to 60 years, we never did it for profit, it was always just something we loved to do.  Today, the mission of YP Farms is to bring quality, fresh, seasonal produce to individuals local and across the nation, while fostering a relationship with local growers and producers.